News
/
Student & Alumni News
MA Student Invited To Present At The MARCH Mental Health Network For Singing And Mental Health
Thursday 14th November 2019
---
---
We are delighted to announce that Emily Foulkes, our first MA Voice Pedagogy bursary student has been invited to present at the MARCH Mental Health Network at Snape Maltings for Singing and Mental Health.
She has explored and reflected on a programme of one to one singing to promote positive mental health and well-being in children.
Emily recently gained a Distinction in her Diploma in Trauma and Mental Health Informed practice.
Following this, she was asked to apply to become a trainer with Trauma Informed Schools UK (TISUK).
As a result of her study undertaken with us, Emily is now on a steering group for the Sing Up Foundation, supporting their work on singing for adolescent mental health, and is now involved in the national special interest group for Singing and Mental Health.
Emily has also been invited to deliver a workshop at the Centre for Child Mental Health in London later in 2020 as a result of her research and work.
Congratulations, Emily!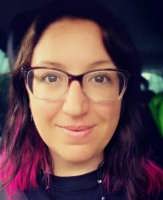 Emily Foulkes
Emily gained a Distinction in her Master's in Voice Pedagogy, specialising in Singing for Mental Health, Pain Management, and Trauma-Informed Practice...