News
MA Voice Pedagogy alumna Anupa Paul to present at ISPS 2023
Tuesday 18th July 2023
---
---
We are delighted that recent MA Voice Pedagogy graduate Anupa Paul has been chosen to present her MA paper at the biennial International Symposium on Performance Science (ISPS) 2023, which will be hosted by the Medical University of Warsaw and the Chopin University of Music in Warsaw, Poland from 17th-20th August.
The theme for 2023 is 'Performance Care and Careers', a topic intended to encourage discussion and debate on connections between performance, wellbeing and society.
Anupa's paper – Acceptance and Commitment Coaching (ACC) for Music Performance Anxiety (MPA) in Adolescent Singers – used literature reviews, self-assessment questionnaires and semi-structured interviews to discover if ACC can be used to simultaneously reduce MPA and improve performance quality among developing adolescent singers.
Congratulations, Anupa!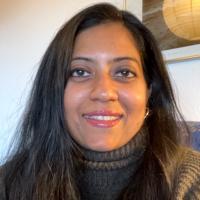 Anupa Paul
Anupa Paul is a voice coach, singing performance coach and choral trainer. She completed her MA Voice Pedagogy with a distinction from Voice Study Center and UWTSD in 2022.