Avril is a professional vocal coach and singing teacher with a private practice in Battle, East Sussex. She also teaches online and runs specialist workshops.
​Avril works with a wide variety of genres, specialising in musical theatre and contemporary commercial music. She trains professional performers, as well as those just starting out on their singing journey. Students include well known performers in the music, film and television industry.
She has been coaching and developing the voices of adults and children for a number of years. Some students have gone on to use their voices professionally, whilst others just want to sing for fun.
Avril Crawford's research focuses on adolescent voice mutation in both girls and boys.
She has investigated the psychological impact of voice change and the physiological changes and psychological issues that impact on performance.
She has also conducted research into teaching strategies in musical theatre singing, for students with specific learning difficulties.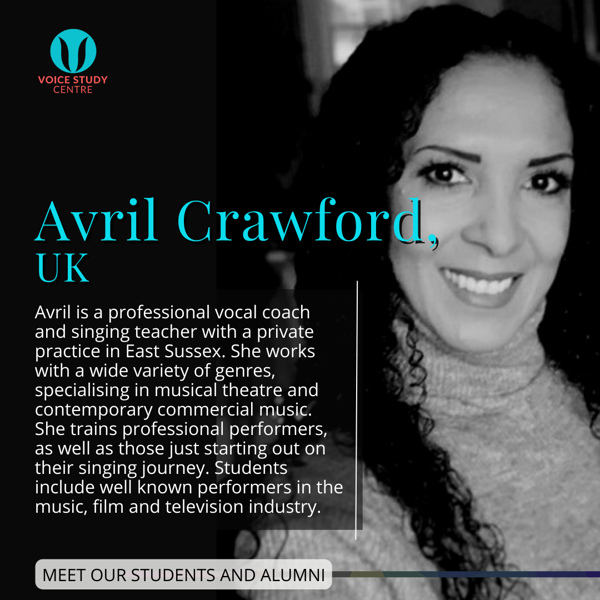 Student & Alumni News
Alumni Avril Crawford Applies Her MA Knowledge To Her Practical Teaching

Voice Study Centre
Tuesday 28th March 2023
MA Voice Pedagogy Alumni Avril Crawford focused her MA research on adolescent voices and was able to apply her knowledge practically within her voice studio.
Read More...