Movement is the foundation to the art of music-making. Vanessa Mulvey's approach to teaching and playing began with Body Mapping and quickly expanded to include other influences. She uses her experience to guide musicians to embody playing movement to unleash expression, build confidence, and cultivate a sustainable playing career.
Experiences outside of the practice room have greatly influenced Vanessa's work. During her third flying trapeze class, a debilitating fear of heights transformed into joy as she flew across the rig to be caught by a catcher. Parkour demonstrated the power of training in judgment-free zones within a community that is supportive and connected. She has never looked back.
Vanessa balances work as a flutist, Body Mapping educator, personal trainer and parkour coach. She is a faculty member at the Longy School of Music of Bard College and New England Conservatory of Music. Vanessa leads workshops at music schools, conferences and festivals that include Vocal Pedagogy Professional Workshop at Boston Conservatory at Berklee, Boston University Tanglewood Institute, PAMA International Symposium, Shepherd School of Music, and University of Michigan, among others.
A graduate of the Crane School of Music and the Cincinnati College-Conservatory of Music, her credentials also include NASM Certified Personal Training Certification, Certified Functional Strength Coach, Parkour A.D.A.P.T. Level 1, Core Movement Integration, and Postural Restoration Institute™ courses. Vanessa has been awarded faculty development grants to further her study and reach new audiences. She is a contributor to the Playing Well Anatomy and Movement Series created by Serap Bastepe-Gray of Peabody Institute.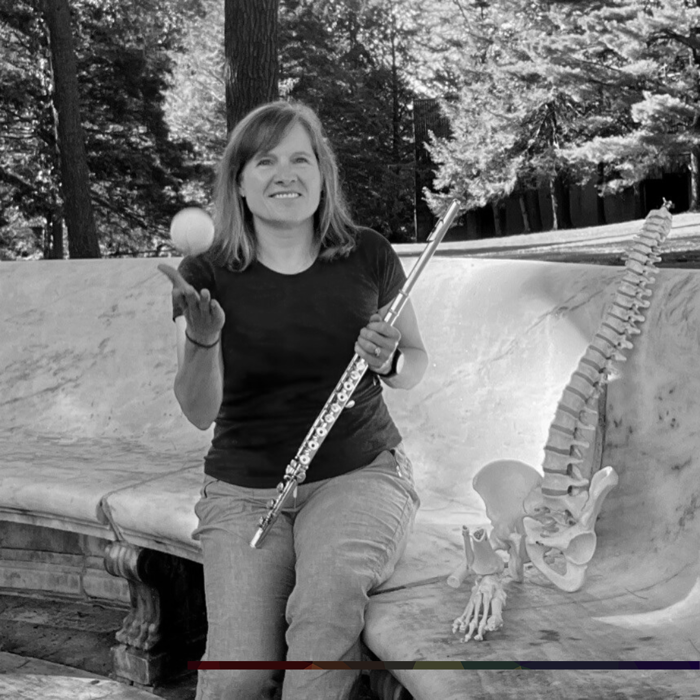 Thursday 18th January 2024
5:00 PM - 7:00 PM
(London Time)
Becoming Grounded - Awareness & Movement in the Voice Studio

Vanessa Mulvey
This workshop will guide you to understand the physical connections that contribute to being grounded and introduce you to methods to teach, practice, perform and live while being grounded. The workshop will feature balance concepts from the Body Mapping course 'What Every Musician Needs to Know About the Body', which will provide a map for our movement.