News
Liz Jackson Hearns' Informative 'Working With Transgender Vocalists' Workshop
Monday 2nd November 2020
---
---
Last week we hosted 'Working with Transgender Vocalists: An Overview', an online workshop which was delivered by Liz Jackson Hearns.
Liz along with co-host Ariel, covered topics such as appropriate language, repertoire choices, navigating voice transition and the ability to demonstrate and teach voice feminisation and masculinisation techniques.
Here's a short clip of Liz discussing the effect that body-shaping garments may have on the voice.
  A big thank you to Liz, Ariel and everyone that attended.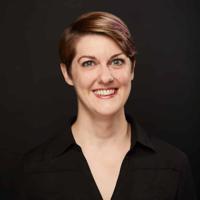 Liz Jackson Hearns
Singers, speakers, and fellow voice teachers from all different backgrounds seek out Liz's teaching for her ability to illuminate traditional vocal pedagogy...