We are so proud of MA Voice Pedagogy Alumni Gökçe Kutsal, who delivered a well-received workshop to students at Newcastle University.
Gökçe's notable research, which she had undertaken as part of her MA studies with us, informed the workshop on performance anxiety.
"Since performance students were inevitably hit hard through Covid, they unfortunately did not have many opportunities for public performance experience. I provided some background on why performance anxiety happens, what the risk factors are, and what symptoms look like before going into practical Acceptance and Commitment Training (ACT) tools and bite-sized lifestyle tips to reduce anxiety."
If you'd like to hear more about Gökçe's research, please follow the link below to watch an interview released last year featuring Gökçe and our Director of Studies, Debbie Winter.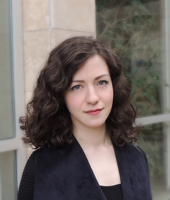 Gokce Kutsal
Gokce Kutsal is an experienced interior architect, acoustics designer and musician; her blended background has provided Gökçe with high proficiency as an acoustician...