News
Celebrating World Speech Day 2023!
Wednesday 15th March 2023
---
---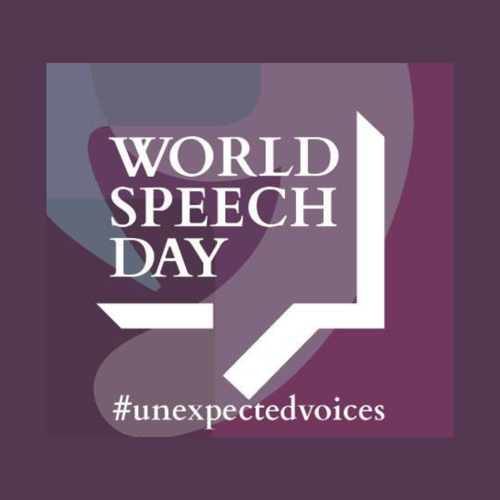 Today we acknowledge World Speech Day, celebrating the transformative power of speech-making to shape change, unite communities and build world citizenship.
From birthday toasts to graduation days; weddings to funerals; leaving parties to welcoming addresses, speeches are a ritual to mark momentous occasions. They bring audience and speaker together in thought and laughter, commemoration and motivation.
Voice is our primary means of communication (Zhang, 2016) and language is 'the medium in and through which social life is talked into existence (Humă, Stokoe, and Sikveland, 2020).
We feel voice in the womb (Jauniaux, et al., 2022) and sound carries beyond the breath that made it, passing from particle to particle (Villaneuva-Rivera et al., 2011) and through memory across time as we recognise voices even without other cues (Kreiman and Sidtis, 2011).
Listening to the human voice creates stronger bonds than any artificially created acoustic (Kumar and Epley, 2021).
Here at the Voice Study Centre, we encourage our community to craft and present their thoughts, find their voice and help to shape the world. From kitchen table to theatre stage, research presentation to political rally, your voice matters.
What speech might you make today?
Henriques, J., Jauniaux, E., de Maisieres, A. T., Gelat, P. (2022). 'Sound Before Birth: Foetal Hearing and the Auditory Environment of the Womb', in Aural Diversity, Routledge. 1:27-41.
Humăa, B., Stokoe, E., and Sikveland, R. O. (2020). Putting persuasion (back) in its interactional context. Research in Psychology 2020, Vol. 17, No. 3, 357–371 https://doi.org/10.1080/14780887.2020.1725947© 2020 Taylor & Francis.
Kreiman, J., & Sidtis, D. (2011). Foundations of voice studies: An interdisciplinary approach to voice production and perception. Hoboken: John Wiley & Sons.
Kumar, E and Epley, N. (2021). It's surprisingly nice to hear you: Misunderstanding the impact of communication media can lead to suboptimal choices of how to connect with others. Journal of Experimental Psychology. General, 150(3), 595–607.
Viallanueva-Rivera, Luis J., Pijanowski, Bryan C., Doucette, Jarrod, Pekin, Burak. (2011). A Primer of acoustic analysis for landscape ecologistsLandscape Ecol 26:1233–1246.
Zhang, Z. (2016) 'Mechanics of human voice production and control'. Journal of Acoustical Society of America. 140(4), 2614.