Kia Ora, I'm Zoe (BMus, MA, Estill EMT) – I am a classically trained soprano turned voice teacher with an MA in Musical Theatre.
I come from New Zealand and started singing lessons relatively late in the game, at around 15 years old when I appeared in The Sound of Music and just couldn't hit any high notes at all. I started absolutely loving to sing classical, musical theatre, lieder, art song and all sorts of different types of music. I focused on musicals though and went on to perform in Grease, Les Miserables, The Rocky Horror Picture Show, Oh What a Circus and West End to Broadway.
With my Bachelor of Music History in hand, I went on to gain my Master's in Musical Theatre from the Royal Conservatoire of Scotland, honing my musical theatre performance skills in the process.
After graduating, I moved to London to pursue my performing career and built a vocal studio full of amazing individuals, some of whom have stayed with me through online voice lessons once I moved to Germany. I vowed to make vocal technique accessible to those who love singing, and to bring my 15 years of teaching experience to show that everyone can learn to sing – it isn't that hard!
I became an Estill EMT in 2017 and have been teaching near Munich, Germany ever since. I also work at spreading good vocal technique (through the courses I do with the Voice Study Centre) to over 75,000 subscribers on my YouTube channel.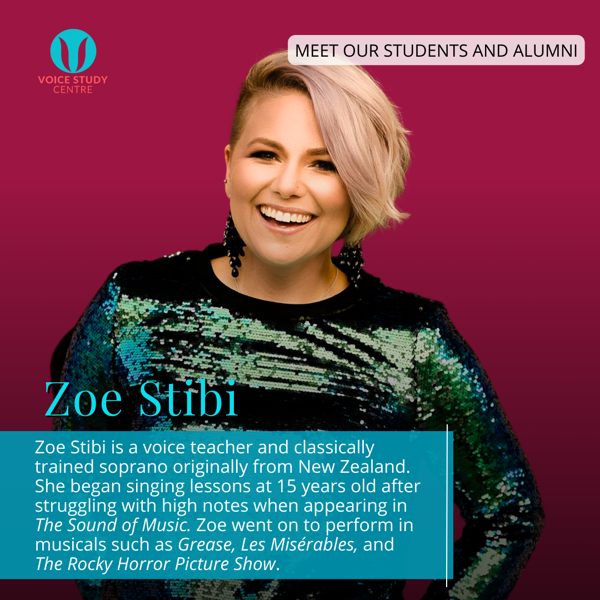 Student & Alumni News
Meet Our Students: Zoe Stibi

Voice Study Centre
Thursday 23rd November 2023
Zoe Stibi (BMus, MA, Estill EMT) is a classically trained soprano turned voice teacher who has dedicated nearly 50 hours to continuing professional development (CPD) through the Voice Study Centre's Online Short Courses since the beginning of 2022 alone.
Read More...