News
/
Course Reviews
Course Review: The Diaphragm in Voice: A Touch-Based Approach with Walt Fritz
Friday 7th July 2023
---
---
Physical therapist and MA Voice Pedagogy student Walt Fritz's two-hour short course explored the effectiveness of manual therapy in treating diaphragm-related issues as well as strategies for improving awareness and strength. While drawing on his own career experiences, Walt engaged in healthy discussion with the participants and regularly encouraged them to share and compare thoughts, feelings and experiences relating to the topics he talked about. He posed questions such as "Can you treat the diaphragm?" and "Does posture matter when breathing?".
The course overall looked at the human anatomy, the process of breathing and issues relating to GERD, performance and pain, as well as evidence to support touch-based manual therapy/intervention and also some diaphragm region exercises to enhance performance and minimise dysfunction.
Walt's ethos went against traditional 'tissue-specific' myofascial release strategies and instead focused on the relationship built up with the client/patient and the uniqueness of the individual (i.e. not every approach works with everyone). He went on to explain that the anatomy (tissue) of a person is important, but equally important is their behaviour, psychology and social interactions (their perceptions, awareness, fears, expectations, values). The common denominator is the complexity of the human being.
A 1957 paper by psychotherapist Carl Rogers was discussed; in it Mr Rogers argued that the relationship with the client is more impactful than the modality in terms of influencing change i.e. it doesn't matter what perspective we use so long as our client's values and beliefs align with ours. From that, Walt outlined the keystone to his own approach – the concept of 'shared decision-making' which combines his own knowledge and expertise with the real lived experience of the client.
He then talked through how a lot of new research is looking at the multi-factorial effects of touch beyond simply treating the local tissues and how touch is so much more impactful than we think i.e. when we touch, we create a universal language that allows the client to control their own environment.
While talking about breath work, posture and the diaphragm, various recent research papers were referred to. These included papers by osteopath Bruno Bordoni, behavioural science journals and a 1992 paper by Douglas Bunnell on scoliosis and asymmetries in posture. Walt went on to discuss a study from J. M. Ciuryk (2021) that shows that manual therapy can be impactful in relaxing the respiratory diaphragm, and a paper from P. S. Bitnar (2021) that proved the positive effects of touch-based manual therapy on patients with gastroesophageal reflux disease (GERD).
The final part of the course focused on hands-on diaphragm and respiration exercises which can be applied via manual therapy (touch) or via self-input to create awareness, build function and introduce options to the client. These included a rotational stretch (which can be more 'freeform' and relate to the client's specific body and requirements) and an exercise that applies mild pressure to the lower ribcage and attempts to gently spread the ribs in opposite directions.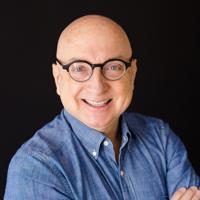 Walt Fritz
US-based physical therapist Walt Fritz teaches a unique interpretation of manual therapy to speech-language pathologists, voice professionals, and other related communities. His gentle, non-manipulative and interactive approach...