We are delighted to announce our MA Voice Pedagogy student, Kate Cubley, will be presenting at Eurovox 2020 during the SOVT (Semi Occluded Vocal Tract) Singposium.
Kate will use her vocal pedagogy research 'Working with allergies in the singing classroom' in relation to working with SOVT exercises in the singing classroom with allergy sufferers.
She will discuss the advantages of using SOVT exercises with allergy suffering students and how they have proved beneficial both used as a warm-up and technical exercise during lessons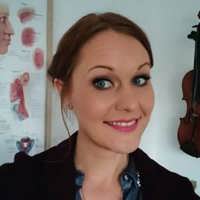 Kate Cubley
Kate Cubley (BA (Hons), MA) is an advanced level Voice Coach, Singing Teacher, singer and researcher working predominantly from her private studio in Cheshire...