News
Research Symposium Seeks Panel Representatives
Friday 17th September 2021
---
---
Research Symposium Seeks Panel Representatives
Voice Study Centre are hosting a symposium on ethics entitled:
Staying in Your Lane: Ethical Considerations for Teaching Singing and Caring for Voices
This will be held in conjunction with University of Wales Trinity Saint David, De Montfort University and Singing for Health Network.
The event will be hosted by Kate Cubley who is currently writing a literature review on Ethics in the Singing Classroom to inform her PhD by Publication with the Mary Seacole Research Centre https://www.dmu.ac.uk/research/centres-institutes/msrc/index.aspx at De Montfort University.
Based on your own work-based experiences of ethics regarding voice health / medicine / therapy / coaching / research / academia / singing for health and wellbeing / teaching, we would like to invite expressions of interest to speak at the symposium.
This would be in the form of a short (10 minute) presentation to spark interest, raise awareness and promote discussion between practitioners. It is also an opportunity to share your related research or workplace interests, as well as promoting your own work, in or around this area.
There will be an open forum discussion and a Q&A session as part of this event which will be held online via Zoom:
Thursday 2nd December 2021 at 2-4pm (UK time)
The symposium intends to explore the ethical codes of teaching singing and caring for voices. The intended audience will be singing teachers, choir leaders, performance coaches, researchers and SLTs specialising in voice.
The intended Learning Objectives will be to:
Discuss the existing ethical codes for Singing Teachers including safeguarding
Learn how the boundaries are being pushed
Discover how (and why) you can maintain good ethical standing in your own work
Examine the impact of a multi-disciplinary team
Partners
Voice Study Centre
University of Wales Trinity Saint David
De Montfort University
Singing for Health Network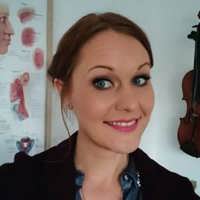 Kate Cubley
Kate Cubley (BA (Hons), MA) is an advanced level Voice Coach, Singing Teacher, singer and researcher working predominantly from her private studio in Cheshire...