Short Courses & Events
Singing and the Brain: A Harmonious Connection (2-part course)
Thursday 1st February 2024, 5:00 PM - Tuesday 6th February 2024 7:00 PM (London Time)
Unlock the transformative power of music with this two-part course that delves deep into the fascinating intersection of neuroscience, music education, and music therapy. This comprehensive exploration will expand your horizons in the following key areas:
Neuroscience and Music: Gain insights into the fundamental mechanisms underlying the profound connection between music and the brain. Uncover the intricate ways in which music impacts cognitive and emotional well-being, leading to remarkable changes in brain structure and function.


Neuroscience of Music Education & Music Therapy: Discover how music education and therapy serve as catalysts for neuroplasticity, enhancing cognitive abilities and promoting lifelong brain health. Learn about the myriad benefits of these practices, from fostering healthy aging to their overall positive impact on well-being.


The Science of Singing Throughout the Lifespan: Uncover the science behind the human voice and its evolution from infancy to later years. This segment provides a solid foundation of research on the art and science of singing, offering valuable insights for educators, practitioners, and researchers.
This course aims to achieve three distinct objectives: to demonstrate the multifaceted benefits of music training and therapy; to equip you with a neuroscience-informed perspective for teaching, practice and research; and to provide a comprehensive understanding of the science of singing across all stages of life. Join Dr Patricia Izbicki on this captivating journey to unlock the secrets of music's impact on the brain and human development.
🏷️ Price £50 (UK VAT inclusive) for both sessions (1st & 6th February 2024)
🎥 Recording automatically sent to all who book (even if you cannot attend live)
▶️ Rewatch as many times as you like
📜 Certificate of attendance available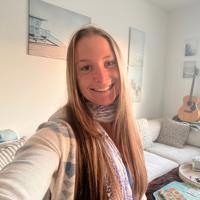 Dr Patricia Izbicki
Dr Patricia Izbicki is a neuroscientist and medical science liaison at Octave, as well as a classical pianist and harpsichordist. Her research focuses on understanding the brain mechanisms of complementary therapies, such as music training, in aging adults and persons with Parkinson's disease.