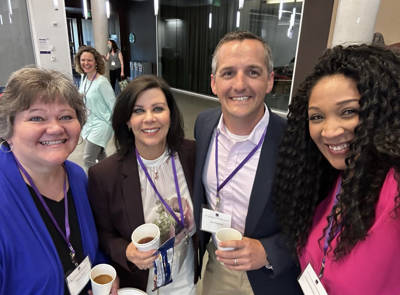 Kerrie Obert, Dr Kari Ragan, Lynn Maxfield and Dr Trineice Robinson Martin
Kerrie Obert, VSC senior faculty member, was a keynote speaker at the 2023 Northwest Voice: The Art and Science of the Performing Voice Conference in Seattle, Washington May 12 and 13th.
The annual conference brings together speech language pathologists, voice teachers, singers, and laryngologists at the beautiful University of Washington campus.  Ms. Obert presented her research on twang and pharyngeal shaping and also talked about strategies to address vibrato in the studio and clinical settings.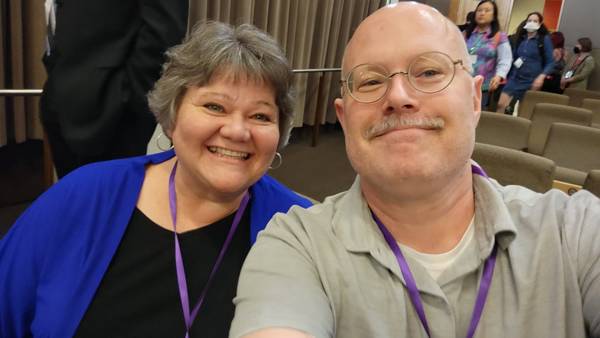 Kerrie Obert and Scott Kovacs
The conference included lectures by over a dozen presenters and was attended by more than 150 participants. Voice Study Centre was well-represented by two MA Voice Pedagogy students, Cierra Jordan and Scott Kovac.
Ms. Obert stated that a particularly interesting lecture was given by Lynn Maxfield, PhD, who spoke about the loss of the vocal ligament with aging and his research on the use of daily high-pitched exercises to combat these changes.
Another particularly interesting lecture was given by Sandra Hirsch, speech language pathologist, who spoke on the use of vowel shapes to assist those in the transgender community.
The conference was a huge success thanks to Kari Ragan, DMA and her team Northwest Voice. If you are anywhere near the Pacific Northwest Region of the United States, please do take the opportunity to attend next year's conference!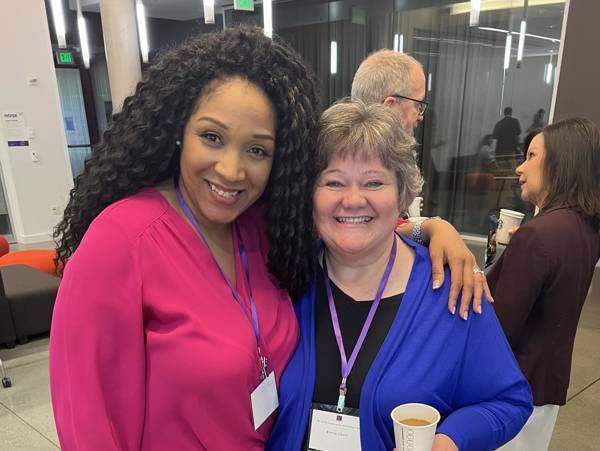 Kerrie Obert and Dr Trineice Robinson Martin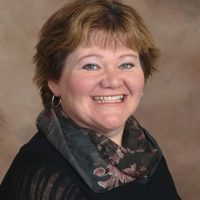 Kerrie Obert
Kerrie Obert is one of the world's leading experts in voice training and pedagogical practice. An internationally acclaimed speech-language pathologist and singing voice...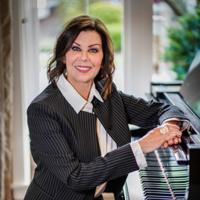 Dr. Kari Ragan
Author, singer, and voice pedagogue Kari Ragan was the 2012 recipient of the coveted Van L. Lawrence Fellowship, which is awarded to candidates who have...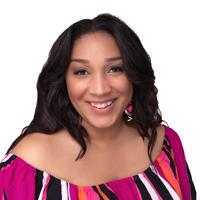 Dr. Trineice Robinson-Martin
As an internationally recognized voice pedagogue in contemporary music, Dr. Trineice Robinson-Martin has dedicated her career to performing and developing...